by Jessica - January 7th, 2014.
Filed under:
Early Learning Centre
,
New Toys
.
Early Learning Centre has these top new toys today
Decorate Your Own Tiara And Wand
£5.00
Little princesses or fairies in training will love this fun kit. They can make and decorate their own unique tiara and wand which be the ideal accessories to make dressing up extra specialIncludes foam tiara, 4 heart shaped foam pieces, 4 colour strips, 4 gem stones, foam board strip, 2 star shaped foam pieces, set of decorative items (glitter, sequins, fabric shapes), glue and instructions.Warning: Not suitable for children under 36 months
B Twister Hand Drum
£3.99
This fun percussion instrument is super easy to play, give it a shake and a wiggle to hear the beads bang the drum. Featuring a bright and exciting design, it is perfect for developing a sense of rhythm as well as exploring sound and tone.Quick Facts:Makes instant noiseBright and colourfulEncourages creative developmentTeaches your child rhythmSuitable for children over 24 months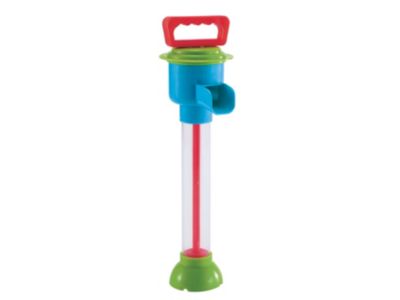 Water Pump
£2.00
Have fun at the water table with the Water Pump. Young children will enjoy pulling up the handle to suck up the water and squirting it out. Featuring bright colours and designed for developing hand to eye coordination, this water toy is sure to provide hours of fun.Quick Facts:Features bright colours and a clear water tubePump up the water with the handleGreat for playtime in the water table.Not suitable for children under 36 months.
Wiggly Eyes
£1.00
A bag packed full of wiggly eye to add character to your models, collages and pictures.Warning! Not suitable for children under 36 months