by Jessica - December 16th, 2013.
Filed under:
Early Learning Centre
,
New Toys
.
New toys added today at Early Learning Centre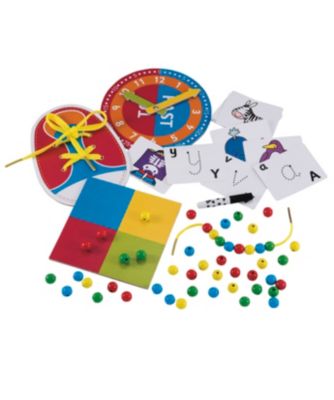 My Complete Activity Pack
£13.00
There are five fun and educational activities for your your little one to explore with the ELC My Complete Activity Pack, including a teaching clock, wooden threading beads, alphabet cards, dry wipe pen, shoe-lace card to practice on and a colour sorting card. This set will help develop your little one's fine motor skills, recognise and sort colours, introducing them to the alphabet as well as learning to tell the time and tying their shoe laces.Quick Facts:Great for wet daysLots to learn and doDevelops fine motor and problem solving skillsSuitable from 36 months
Rosie's World Flora And Her Pushchair
£10.00
Push Rosie's cute little sister in her pram, it has a sun shade to keep the brightness out of her eyes and a buggy bar to keep her secure. She has soft blonde hair and a pretty dress. Take her to meet Rosie and all the other friends in Rosie's World.Quick Facts:Part of the Rosie's World CollectionSoft brushable hairSuitable from 3 years
Magnetic Alphabet Train - Lower Case
£10.00
The ELC Magnetic Alphabet Train is perfect for early letter recognition as well as learning to read and spell. Line up the carriages on the fridge to make simple words, which will encourage your little one to practise their literacy skills.Colours may vary from the picture.Quick Facts:Suitable for early letter recognition and beginning to read and spellComes with one train engine and 26 lowercase letter carriagesColours may vary
Fisher Price Laugh and Learn Camera
£7.99
This Fisher Price Laugh and Learn camera is sure to you make your baby smile, laugh and sing along with four great songs to help them learn about counting, colours, feelings and more. Turn the camera on by pressing the big button or press the toggle to take a picture and hear a sound. There's a ball with pictures to pat and roll, beads to spin and plenty of fun in the pictures. The volume control makes this Fisher Price toy camera ideally suited for quiet play too.