by Jessica - December 10th, 2013.
Filed under:
Early Learning Centre
,
New Toys
.
New toys at Early Learning Centre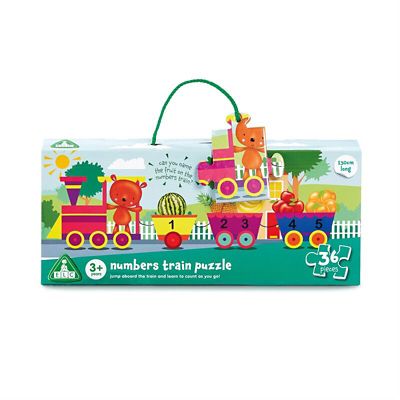 Bontempi Digital Keyboard
£69.99
You will be amazed at the sound quality of this electronic keyboard manufactured in Italy. With the unique 'System 5' learn to play system which gets children playing this keyboard straight away. Features 40 midi size keys (C-C) and 100 sounds - 16 note polyphony, 32 rhythms with easy play arranger, 32 pre-recorded songs with melody off and 6 DJ rhythms with special effects.With a metronome to keep tempo, a sequencer to record and listen to what has been played and a transposer and demo song.With reverb and sustain effects and volume, start/stop, down beat and tempo controls plus accompaniment sounds, 6 pads with recorded chords and 100 groups of pre-recorded chords.Includes keyboard, music stand, booklet and headphone microphone. Requires 6 x AA batteries or DC current mains adaptor (not included).Not suitable for children under 36 months.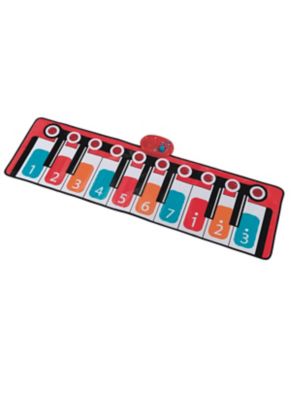 Musical Footsteps
£20.00
Children can make musical sounds as they walk, hop or jump across the this giant keyboard. As they move around the keys, your little one will hear the different notes, which will help them discover tone and pitch.Quick Facts:Allows your little one to discover different soundsRequires 4 x AA batteriesSuitable from 36 months
Bontempi Grand Piano
£19.99
Small children will love this grand piano which has detachable legs to make it more portable. With 16 keys (F-G). Easy to put together - the legs just slot into the piano and the stool. Includes piano with 3 detachable legs and a piano stool with 4 legs.Not suitable for children under 36 months.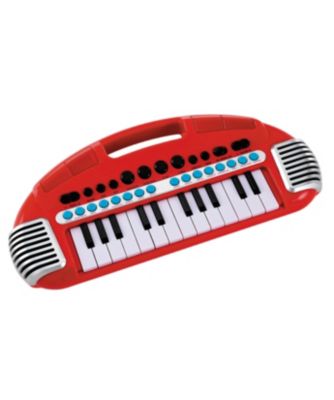 Carry Along Keyboard - Red
£15.00
The Carry Along Keyboard is a great keyboard for your child to enjoy. There are 24 keys, 8 different instrument sounds, 8 rhythms to play along to and 4 fun drum sounds to try. There is also a record and playback feature so your child can record the tunes they invent then dance or sing along when they play them back. The Carry Along Keyboard also comes with six pre-recorded tunes to listen to. The portable keyboard is a great way for your child to discover how fun making music can be. The Carry Along Keyboard also has flashing lights to enjoy. Quick facts:• Fun Carry Along Keyboard with 24 keys • 10 fun instrument sounds to try• 8 rhythms and 4 fun drum sounds• 6 pre-recorded melodies to enjoy• Flashing lights and playback feature tooGreat for your child's development:Discovering how a keyboard works and learning how to make different sounds using their fingers is a great musical start for your child. The Carry Along Keyboard helps your child discover cause and effect through hands-on exploration, and they can enjoy discovering the different instrument sounds, rhythms and drum sounds. The Carry Along Keyboard also encourages them to start creating their own melodies. Using their hands on the keyboard is great for your child's coordination, and singing and playing music is a great boost to confidence. Singing and dancing along to tunes they have invented is fun and feel-good way to play for your child. ELC star qualityWe love the Carry Along Keyboard because it packs so much music into a neat and easy-to-use keyboard! With the 8 instruments, 8 rhythms, 4 drum sounds and more, the Carry Along Keyboard really is packed full of musical activity for your child. It's a great way to introduce your child to making music, and the fact that it's so easy to carry means your child can take it wherever they want to to enjoy making music. What you need to know:Pack contents: 1 x Carry Along Keyboard. Instrument sounds: guitar, music box, bell, mandolin, trumpet, violin, organ, piano. Rhythms: waltz, disco, march, classical, dance, rock, slow rock, salsa.Percussion sounds: bass drum, snare drum, hi hat, cymbalPlus: record, stop, play, demo songs, on/off and volume control. Lights and soundsBatteries: Needs 3 x AA batteriesPlaying tips: Carry Along KeyboardLet's play a tuneLet's pick an instrument sounds, play the keys and press the drum buttons too. We can invent our own tunes and sing along as we play!Mini minstrelLet's carry the keyboard around. We can play it in the kitchen or in our room, or wherever we feel like it. We can play tunes to Mum and Dad and sing to them too. Great forPlaying music wherever you goDiscovering the joy of musicSinging along as you playInspiring your young musicianExperimenting with rhythm and melody.